Shire Shine Valeting – mobile car wash & valeting service
For many of us, our cars operate as a second home and office, and is there any better feeling than having a clean and tidy automobile? Not to mention the hygiene boost. For this reason, Shire Shine Valeting is here to offer you advanced car wash and valeting services. Our detailed and comprehensive services include; engine steam clean, hand and machine polishing, ceramic coatings, and interior deep cleans. We use top of the range equipment, detergents and waxes to ensure each and every wash and valet is second to none. Our team are experienced and professional, with incredibly high standards, and our loyal customer base speaks volumes about their ability to get even the dirtiest car looking good as new. We're even able to buff out small scratches, just ask! We are located in Dumbarton but cover a wide range of areas, if you'd like more details, kindly reach out to us – our contact details are below.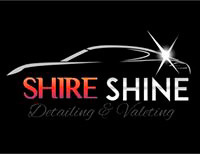 You may also be interested in...